What will really matter in 2023? Five key trends in consulting and professional services
The consulting industry, like much of the global market, is experiencing an extended period of disruption. Whilst not all firms are in the same boat, they're all navigating the same storm—one characterised by shifting client needs in response to macroeconomic uncertainty and global geopolitical tension.  
In order to stay ahead of the curve, it's vital that professional services firms are able to anticipate and adapt to the changing demands of their clients. With that in mind, below are five key trends we think will have a sizeable impact on the consulting market in 2023.  
We've based these predictions on our annual survey of almost 4,000 senior buyers of consulting services, as well as our regular quarterly surveys of consultants and consulting clients. To find out more about this data, get in touch today. 
Trend #1: Clients will spend more on consulting and other professional services, despite macroeconomic uncertainty
Transformation projects combined with staff augmentation mean that consulting and professional services are proving resilient. We expect the global rate of growth in consulting to slow to 8% in 2023, down from an estimated 10% last year.  
Four factors could change this picture: 
firstly, falling consumer expenditure would cause clients to make immediate cutbacks in their spend on consulting;

 

secondly, an easing of the labour shortage would mean less call for staff augmentation;

 

thirdly, accumulating crises could theoretically tip senior leadership teams into sudden retrenchment;

 

finally, consulting firms may be slow to adapt their services to clients' changing needs. 

 
However, falling consumer expenditure and the easing of talent issues will happen over time, allowing professional services firms to adapt. CXO sentiment could change more quickly: A handful of CEOs all announcing that they're dramatically cutting back investment and/or staff might create a domino effect, but this is likely to be sector specific, the high-tech sector being a current example.  
The greatest threat, we think, is that the supply side doesn't anticipate and adapt sufficiently quickly. This is precisely what happened in the summer of 2020. After the initial shock of lockdowns, clients realised that they needed more, different external support, but it took firms until the autumn to respond. 
For more information about our forecasts, see our previous update. 
Trend #2: Growth will be unevenly distributed, but technology will be a sure-fire bet
Every piece of research we do at the moment highlights the importance of technology services. When we asked clients at the end of last year about the areas in which they planned to make significantly more use of external support, 36% said cybersecurity, 31% said data & analytics, and 21% said innovation (which, in clients' eyes, is heavily linked to technology). Anecdotally, we hear from firms that large-scale, digital transformation programmes are not being cancelled or paused, and that clients recognise the need to continue to invest in their ability to create value in the long-term.  
What of other services? Those that will do best are likely to be ones which are either strongly linked to technology—change management—or depend on technology in order to have a rapid, concrete impact—operational improvement.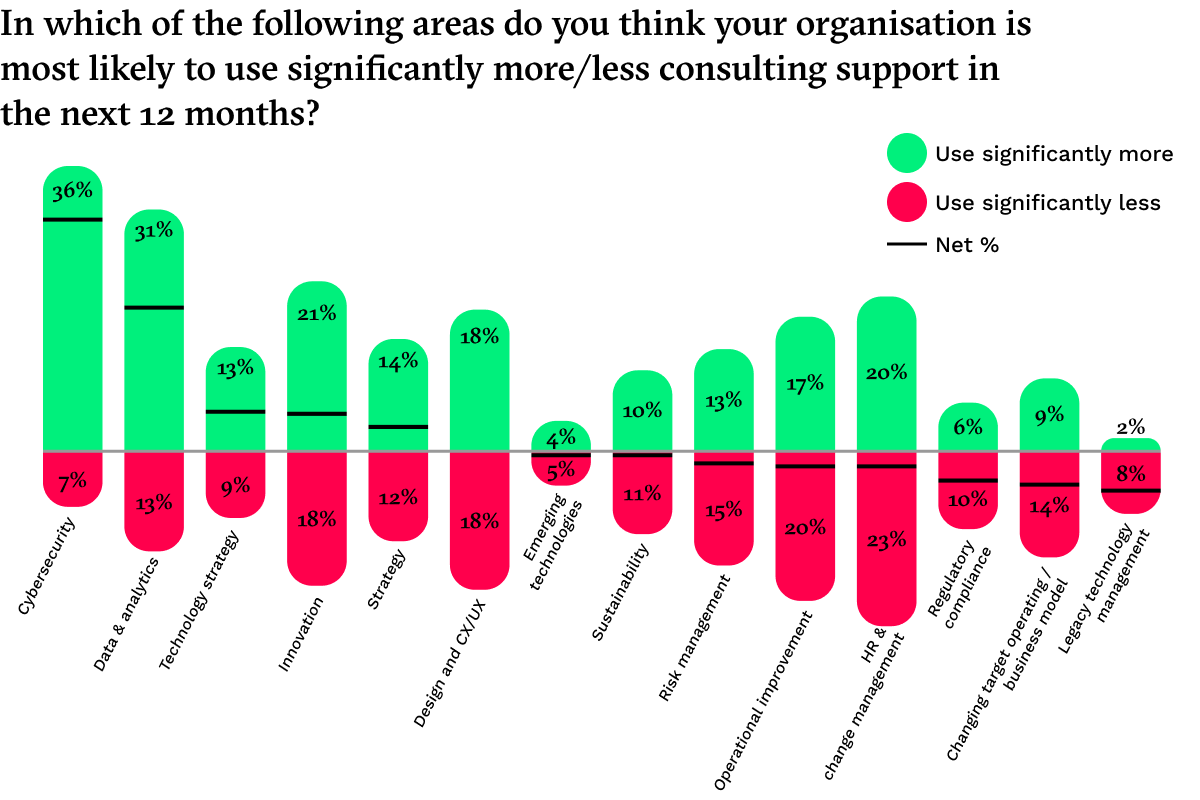 Trend #3: Consulting firms' biggest competitors will be clients themselves
Just over 40% of clients expect to solve productivity issues themselves. Only 12% say they'll make extensive use of consulting support, while 46% say they'll bring consultants in for specific reasons. The main reason why organisations won't use consulting help in this space, cited by 40% of clients, is that consultants don't have a deep enough knowledge of their, the clients', organisation to be able to identify potential improvements. Between 20-25% of clients think consultants are too expensive and don't have a tangible impact. Even when consultants do make a difference, a fifth of clients think it will be short-lived.
However, clients' ability to do the work themselves depends on having enough of the right people in their own organisation. That was a problem throughout 2022, but there are tentative signs that, while many employees continue to feel stressed and overworked, organisations are less short-staffed than they were. In the financial services sector, for example, the proportion of clients describing their organisation as very short-staffed fell from 58% in the first half of 2022 to 38% in the second half.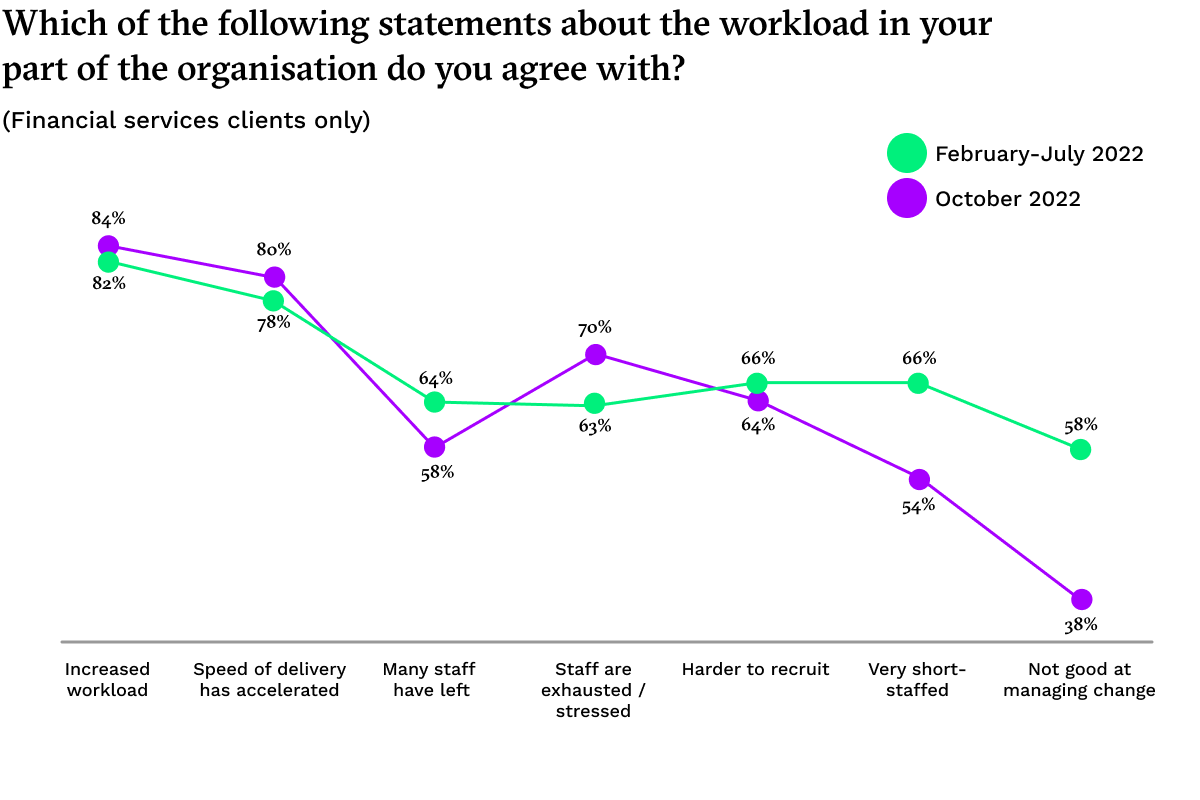 Trend #4: Implementation will be the most important attribute clients look for when considering which firm to hire
For the last seven years we've been collecting data on factors clients take into account when broadly considering which consulting and professional services firms to hire. Historically, changes in the relative importance of the attributes we included was slow, but the aftermath of the pandemic saw dramatic swings, driven by hybrid buying and working, with brand and expertise shifting from aspects that clients perhaps took for granted to being the most important attributes that firms needed to demonstrate.  
Our numbers this year show a further, but less radical change: Brand and expertise are still near the top of the list, but the ability to implement is now the number one factor. This is the first time that's been the case—and highlights just how important it will be for consulting and professional services firms to deliver tangible outcomes. 
Trend #5: Consulting firms that succeed will be those with propositions that deliver faster, better solutions
And firms won't just need to deliver: If they're to win work in a more challenging and fragmented environment, they need to be seen to deliver. Thirty-seven percent of clients say they want consulting firms to be proactive and come to them with well-thought-through suggestions on productivity—and, we think, much else. Asked what the two main reasons are why they expect to bring in more external support, despite the economic environment, a third of clients say it's because they want access to better solutions than they could design themselves, and that those solutions can be delivered more quickly than if they relied on internal resources.